VOTE TGR ON THE ONGOING WORLD SUMMIT ON INFORMATION 2021
Posted 1 month ago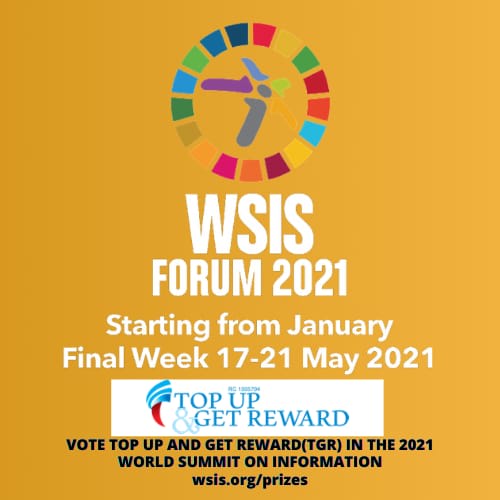 Dear Valued members and friends.
This is to inform all that TOPUP AND GET REWARD LIMITED has been nominated for the WORLD SUMMIT ON INFORMATION 2021. This is an annual project by international information society which is globally recognized. Out of 1270 applicants throughout the world only 360 companies were selected among which TOP UP AND GET REWARD LTD was selected.
TGR would like to emerge the winner for this year's project with the help of GOD and YOU. The winner will be selected by vote. Kindly Vote for TELECONOMY FROM TOP UP AND GET REWARD LTD
Please follow the link below to register and vote. Click on this link
1. Register as a new member by typing your e-mail address and create a password(do not copy and paste)
2. Check your e-mail for a message from WSIS Account Confirmation
3. Click on Confirm registration, click on LOG IN
4. Log in with your e-mail address and your created password
5. Select your organizational sector(e.g government sector, private etc)
6. Type the name of your company and submit
Please note when creating password , password must have lower and upper case with special character e.g. Dayo@2021.
TO VOTE
After you have confirmed and login Click on Prizes, then scroll down to Phase 3 and click on vote
Select Voting form Under the "Voting Form"
click to select Al C2- INFORMATION AND COMMUNICATION INFRASTRUCTURE
At this point look for TELECONOMY FROM TOP UP AND GET REWARD LTD. Then click on vote for this project.
Thank you for your support